Perform Anywhere With The Smart, Compact Yamaha STAGEPAS 200 Portable PA
Perform Anywhere With The Smart, Compact Yamaha STAGEPAS 200 Portable PA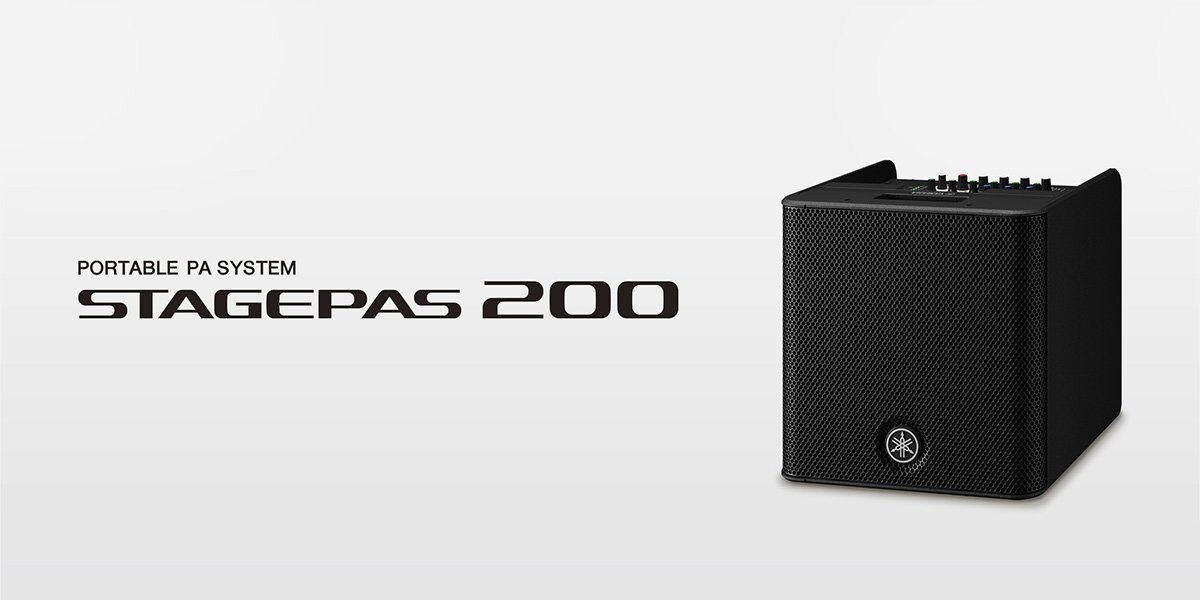 January 18, 2023, Shizuoka, Japan --Yamaha Corporation has announced a new addition to its line-up of professional, portable PAs, the compact and feature-packed STAGEPAS 200. Offering exceptionally high sound quality from a 300 mm cube-style cabinet and - for the first time - a battery-powered option, the premium STAGEPAS 200 lets you take your performance literally anywhere.
STAGEPAS 200 provides all the features of a high quality portable PA system in a remarkably compact, cube-shaped enclosure. Alongside its portability and sound quality, it offers ample functionality and mixing capacity, intuitive operation and support for Bluetooth audio streaming and remote control. Available with an optional battery pack, STAGEPAS 200 is suitable for a wide range of applications, from street performances to events, parties and speeches.
A 1.4" HF + 8" LF high quality coaxial compression driver is powered by a 180 W Class D amplifier, delivering best-in-class sound pressure, precise phase response, natural high frequency dispersion and remarkably detailed sound. The onboard five-channel (3 mono mic/line and 1 stereo line) digital mixing section offers unprecedented flexibility for a compact 'one box' PA system. Each input channel is equipped with Yamaha's proprietary 1-knob EQ/preset and 1-knob Effect controls. Together with the 'Mode' compressor on the main outputs, users can easily and intuitively create the sound they want.
The 1-knob EQ/preset for input channels 2-3 also features a built-in microphone simulator, allowing the optimal sound for acoustic guitars to be set with a single control. A priority ducker is provided to reduce the volume of other sources when a microphone or specific source is in use, while a smart feedback suppressor automatically eliminates unwanted feedback.
The system is very easy to operate. As well as onboard controls, Yamaha's iOS/Android STAGEPAS Controller app provides realtime, precise remote control of volume, EQ and effects including reverb, compression, microphone simulator, ducker and feedback suppressor. Settings can be saved and recalled, greatly reducing setup time, ensuring consistent sound and allowing users to concentrate solely on their performance. All of this is condensed into a cabinet measuring just 30 cm3.
The system's flexibility is enhanced by a rubber stand which can tilt the unit at a 30º or 60º angle, for use either as an audience fill speaker or as a floor monitor for performers. The base of the cabinet also houses a 35 mm pole mount socket, allowing it to be mounted on a speaker stand or with a subwoofer using a distance rod.
Alongside the standard STAGEPAS 200, Yamaha is offering STAGEPAS 200BTR, the first Yamaha Pro Audio product to include a high capacity, rechargeable lithium-ion battery pack. Delivering up to 10 hours of continuous operation between charges, the BTR-STP200 battery allows the system to provide reliable performance, even in remote locations where no other power source is available, further reinforcing the STAGEPAS series motto 'All The World's Your Stage'. The BTR-STP200 battery is also available separately.
Another option is the CASE-STP200, a dedicated carrying case with wheels and a large storage pocket for cables and other accessories, allowing STAGEPAS 200 to be easily and safely transported to any location.
"STAGEPAS 200 takes our range of portable, professional-quality PA systems to a new level of sound quality and versatility from a remarkably small package," says Thomas Hemery, General Manager at Yamaha Pro Audio Marketing and Sales. "It is the ideal sound reinforcement system for a huge array of uses, from busking and impromptu outdoor performances to presentations and parties. We are sure that it will be a great solution for anyone in need of a truly portable PA system."
Perform Anywhere With The Smart, Compact Yamaha STAGEPAS 200 Portable PA