The ADECIA solution marks a new era for hybrid learning at Blekinge Institute of Technology (BTH)
The ADECIA solution marks a new era for hybrid learning at Blekinge Institute of Technology (BTH)
Blekinge Institute of Technology (BTH) is a university in the city of Karlskrona in the southeast of Sweden with an international profile. A couple of years ago they started the discussion about how they could develop their hybrid teaching. With a clear focus on international exchange and with many students that attend remotely online they had to come to a solution. Here, the teacher's wish to be able to move freely in the classroom and the possibility for students onsite to participate were also driving forces.
In the following interview with Jonas Knutsson, pedagogic developer at BTH, and Daniel Jönsson AV-Technician at Midcon, we tell the story of how the Adecia Solution became the teachers favorite at Blekinge Institute of Technology.
What requirements did BTH approach Midcon with? Were there any particular challenges?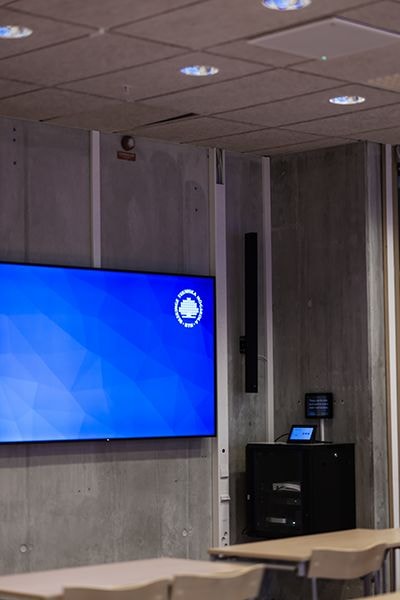 Knutsson: Before the Pandemic BTH saw that this is the way that probably it's going to happen; We are going to have more distance education, there will probably be more hybrid teaching and so on. We talked about that, and we thought about that – but then the Pandemic came, and everything just went faster. We had to adapt to the situation we had. And then we saw that we must have rooms that makes distance education easier to manage, we must manage distance education in big rooms where you must have good sound, good camera – a good technical environment, and it must be easy for every teacher to use. And then we started thinking about ceiling microphones, what cameras we could use, what platform we could use and so on.
Jönsson: We have collaborated with BTH (Blekinge Institute of Technology) for many years on AV technology, they come to us for help. And that's why they came to us when they had a need for hybrid classrooms. They wanted to know how to go about it, they wanted to have suggestions. At that time, they (BTH) had been to other universities, and they had some ideas of their own about microphones. However, we put together a proposition of our own for them - according to their wishes – and then we discussed our way to a solution that was satisfactory.
How could a ceiling microphone solution best solve these challenges / Why was a ceiling microphone solution chosen?
Knutsson: We wanted something that was easy to use! The teachers shouldn't be nervous about using any of this equipment. So today it's like this; you walk into a room, you start your zoom meeting, the ceiling microphone starts, the camera starts and everything just works. And that's what we wanted; we wanted something that was easy, adaptable, flexible and that could over bridge the distance between the physical room and the student that was online somewhere in the world. So how could we connect those things together? And it was easier to get that connection when the teacher didn't have to have a headset or handheld microphone – you could just go into the room and speak like it was a normal class.
Jönsson: The thing was that the teachers wanted to be able to move freely in the room and at the same time the students should be heard with their input and when they had questions. They needed for everybody in the room to be heard without having to pass or move microphones around…
What were the reasons for choosing Yamaha ADECIA in the case of BTH?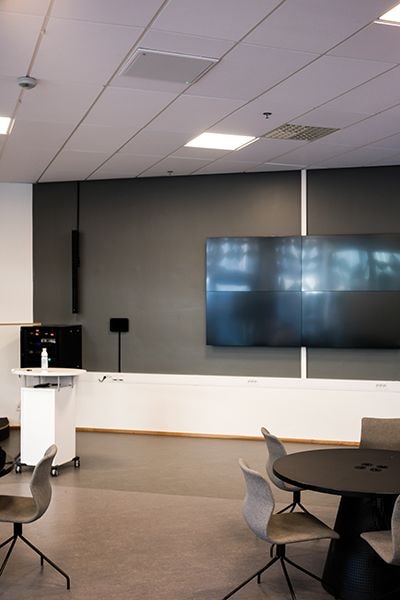 Jönsson: Well actually to start with they (BTH) were pretty set on going with (competing brand, editor) – many universities use them. But we had a collaboration with the Yamaha team and Peter Gustavsson (Swedish Yamaha Manager) since earlier and we asked them what they had to offer – and they suggested the Adecia system. After this, we had a demo where we and the client sat on-site at BTH, and the team on the other end used Adecia showing the different features live in the online meeting. This convinced them (BTH) that it was a good thing and we got the green light.
Which elements from Yamaha were used in the overall system?
Jönsson: We use everything from the processor, RM-CR, to the VXL speakers and the Ceiling Microphones (RM-CG) – those are the components we use.
How was the installation?
Knutsson: We had the company (system integrator) doing that for us and when it was done, we tried it out. We had no major complications whatsoever as far as I know.
Jönsson: There were challenges with echo in the rooms, there were a lot of hard surfaces that gave us some problems. We had previously tried with other so-called omnidirectional microphones, but they produced to much of a tinny sound. Here the Adecia system worked better since it can pinpoint the person talking thereby avoiding a large part of the tinny sound. This was one of the demands from them (BTH) to be able to remove the tinny sound from these rooms – and for the most part, we have succeeded in doing so.
Were there any special features you had to pay attention to during the installation of the systems?
Jönsson: No, not really. The most important thing was to get great sound in the rooms. That the microphone would have good pickup throughout the room… The expected features were there.
How has your experience with the system been since? How is the sound quality and speech intelligibility for the remote side?
Knutsson: Let me put it like this – it's more than good enough! So, the flexibility and the ease of use for the teacher makes it a perfect tool. Cause it's good enough to have your meeting, to have your education, to have your classroom, to have a discussion.
Has the use of a ceiling microphone solution changed meeting procedures or conferences?
Knutsson: Yes! It's been one of the main reasons, I think, that our hybrid teaching works pretty well. We are not that used to that format; the organization is a bit insecure about the whole hybrid "thing" – but – the technology and the ceiling microphone make it work. Because you just go into the room as I said before, you start the technology – and everything is set up. You have students in the room, you have students on distance, and everyone can hear what everyone says – it connects everybody. Because before this, the teacher had a headset. If someone said something in the room, if a student said something the people on distance couldn't hear that. So now the ceiling microphone and the hybrid situation makes the students connect to each other in a different way, it over bridges the distances.
Is BTH satisfied with the solution? Would you recommend this solution again?
Knutsson: We are very pleased! We started buying one, then we bought four more, and now I don't know we have 6 or 7 of them – so Yes, we are pleased. We are very pleased, and we would advise other organizations to try them out. Just think about what you want them for, what room and what you want to achieve in that room, what is the purpose.
Jonas Knutsson, Pedagogic Developer BTH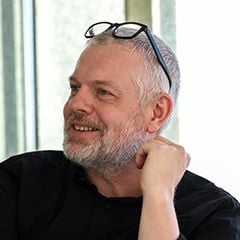 It (Adecia) does what we expected. We have teachers now that demand this kind of ceiling microphones in every room – because we don't have them everywhere. And when they (the teachers) have seen this and used this they don't want to have a headset, they don't want to have a handheld mic. They just don't want to mess around with that – they want to teach.
Daniel Jönsson, AV-Technician Midcon AB
Regarding the case with BTH we received an Inquiry from them to present a professional audio solution for video conferencing and hybrid technology in their classrooms.
Since we have an ongoing collaboration with Yamaha (Sweden branch, editor's note) they gave us the suggestion with the Adecia system. We demonstrated it to the customer, had a live demo, and they were convinced this was what they wanted! Then we installed and deployed the system and they have been satisfied and happy with how it works…
BTH, Blekinge Institute of Technology.
This educational institution has 6500 students where about 600 of them are international. The Institute campus is located in the city of Karlskrona, Sweden. BTHs main focus areas are Digitalization and Sustainability. They also research and teach in subjects like information technology, engineering, spatial planning, leadership and health.
Midcon AB
Midcon AB is one of south-east Sweden's leading partners in IT infrastructure services and meeting technology. They are a full-service operation that handle all the steps from pre studies, project management, installation and delivery to service and support for their clients.
The ADECIA solution marks a new era for hybrid learning at Blekinge Institute of Technology (BTH)