Dante is an audio networking technology developed by Audinate. Dante devices on the same network automatically detect each other. This can make setting up a system simpler and thus reduce complexity and potential errors. In this sense, Dante can be thought of as a plug-and-play network technology.
This guide focuses on network design rather than the basic specifications of individual products and Dante network.
CL/QL Series Online Seminar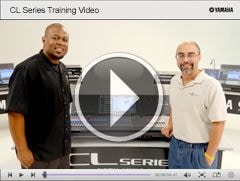 Experience our CL/QL series training seminar online!
The features and functions are explained by Leland Green and Jose Perez - top two of the most experienced trainers of Yamaha digital mixing consoles. You can follow the contents in order, or choose a paticular video focusing on a topic.
[Notes:] These videos were created using CL Series firmware V2.0 and QL Series firmware V1.0. The latest specifications are subject to change with future firmware update.
* The subtitles are available in English, Spanish, Russian (partly), Chinese, and Japanese. If your language does not appear, click the menu button at the bottom-right of player and choose it.
2. System Configuration - Basics
3. Console Operation - Basics
4. Console Operation - Advanced