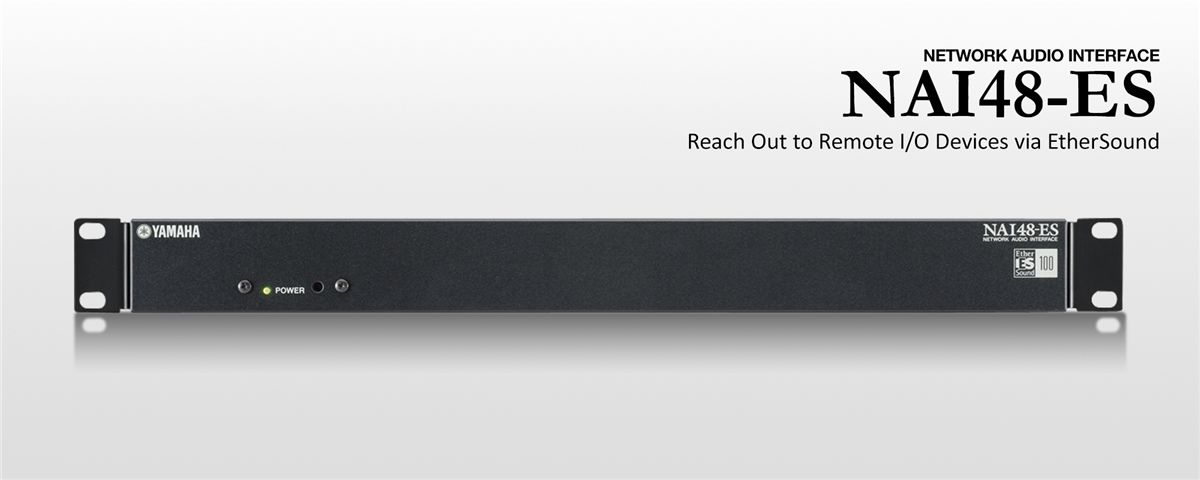 NHB32-C
Network Hub and Bridge
32-channel Digital Audio interfacing with CobraNet™ Devices
32 In/32 Out Audio and Control Interface The NHB32-C is a 32 input/32 output channel interface unit for CobraNet™ and AES/EBU connections. Use the NHB32-C to transfer control signals for the ACU16-C amp control unit, MIDI devices, or remote head amplifier (AD8HR).* * Only one control type can be used at a time. About CobraNet™ There is a growing need for large-scale audio systems, and with it the need for advanced networking technologies that can distribute high-quality audio quickly and reliably throughout large venues or open facilities with fully integrated control. CobraNet™ is a sophisticated technology that enables transfer of multiple audio and control channels via Ethernet cable. As an integrated system, CobraNet allows digital data to be carried up to 100 meters* from one port to another device by common CAT-5/100Base-TX cabling, or up to 2 kilometers by optical fiber. It is fast, with constant 5.33ms latency**; it is reliable, thanks to built-in redundant systems; and, with the standard cabling and connections, it is remarkably easy to use and economical. * The actual maximum length of cables may differ depending on the quality of the Ethernet equipment or the particular settings used.** Low latency mode of CobraNet™ is now supported, which enables users to choose from 5.33ms, 2.67ms and 1.33ms.
NHB32-C
Network Hub and Bridge
A 32-channel AES/EBU and CobraNet™ interface that facilitates construction of up to 64-channel audio and control networks with a LAN infrastructure.
A single NHB32-C unit can support up to 32-channels of digital audio I/O, and one control signal I/O.
Four separate 8-channel AES/EBU input/output terminals.
CobraNet™ transfers high-quality 20-bit or 24-bit 48 kHz digital audio over four bundle paths in real time.
MIDI, head amp remote (AD8HR, AD824) and amplifier control.
NetworkAmp Manager software allows central control of both audio and control signals.
Up to eight NHB32-C units can be networked, with each unit transferring and receiving four bundles, and 64 channels of digital audio can be received from any ACU16-C or NHB32-C on the network via CobraNet™.
A networked system with ACU16-C and NHB32-C units is capable of handling up to 64 channels of digital audio.
Multicast and unicast modes can be used in combination to optimize bandwidth.
Primary and secondary CobraNet™ ports are built-in, providing a redundant network for reliable operation.
The colors and finishes shown may vary from those on the actual products.