Yamaha Announces the Release of Their First Ever Dedicated Game Streaming Audio Mixer, the ZG Series
Yamaha Announces the Release of Their First Ever Dedicated Game Streaming Audio Mixer, the ZG Series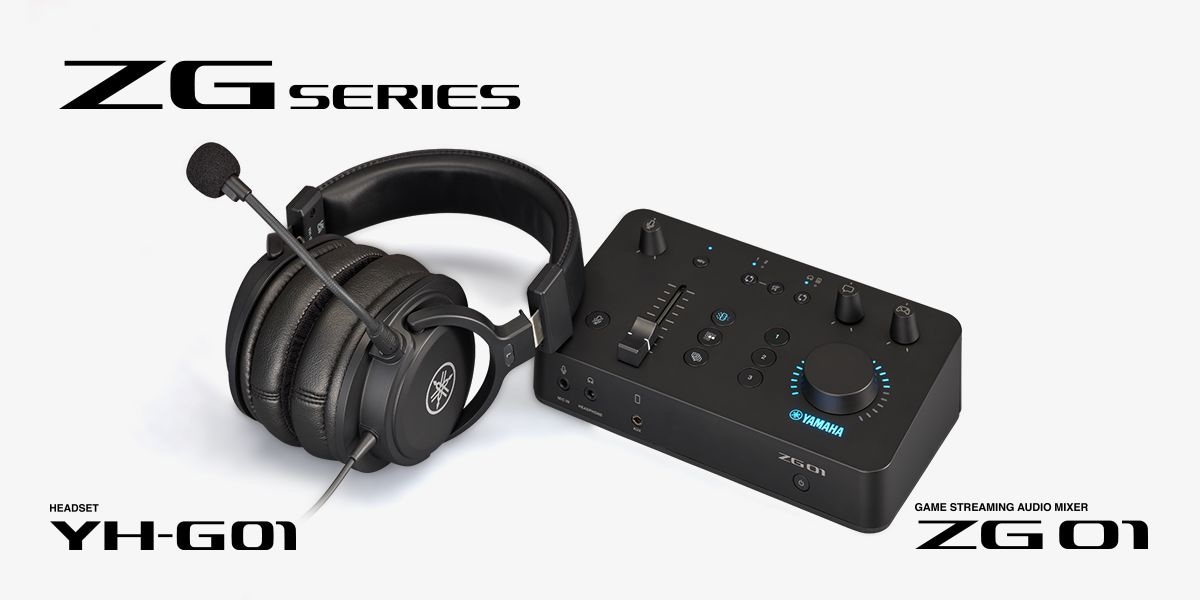 April 20, 2022, Shizuoka, Japan
Yamaha is excited to announce the release of the ZG01 dedicated game streaming audio mixer as a response to the increasing demand for a more immersive overall gaming experience.
With almost 3 billion gamers worldwide, the video game market and the culture surrounding it has grown exponentially in the past couple of decades. This is due in part to a dramatic shift towards a shared gaming experience via live streaming; it has never been easier for gamers to connect with the global gaming community over streaming platforms like YouTube Live or Twitch.
After Yamaha released the original AG series in 2015, it quickly became a staple of the personal live streaming market as well as of the gaming community for users to manage their various audio streams. Now, as the gaming ecosystem continues to evolve, so too have the requirements of gamers seeking to create a more immersive sonic experience.
Leveraging the extensive knowledge and expertise accrued over decades of developing advanced sound processing and acoustic technologies, Yamaha developed the ZG01 to deliver a uniquely immersive audio experience to gamers. This new audio mixer allows users to tailor the game audio, their voice, and the voice of a chat partner into their own playback environment, while providing the ideal audio to both the chat partner and the audience the user is streaming to. The ZG01 mixer is being released alongside the YH-G01 studio-quality headset and the ZG01 PACK all-in-one package.
The ZG01 game streaming mixer features physical controls that have been designed specifically for gameplay, voice chat, and game streaming, to provide simple and intuitive management of all audio signals. The ZG01 is equipped with an HDMI port for connecting consumer game consoles, as well as other ports necessary for building a more extensive gaming sound environment with a minimum of connectivity and setup. When users install the dedicated driver into their computer, the ZG01 is recognized as two virtual devices, making it possible to send and receive two audio channels for different purposes.
The ZG01's "ZG Sound Processing" incorporates Yamaha's proprietary ViReal(TM) 3D audio technology for headphones, delivering a uniquely powerful immersive gaming experience. There are three main features: ZG SURROUND, FOCUS MODE/EQ and 3D CHAT SPACE. ZG SURROUND provides the full depth of a game's multi-channel surround sound via USB/HDMI input when using stereo headphones. The authentic surround sound reproduction is converted by ViReal(TM) technology. FOCUS MODE/EQ can suppress the sound of the gamers' own character's voice or emphasizes environmental sounds of the game audio. The settings can be configured to suit a variety of game titles, scenes, and playing styles. 3D CHAT SPACE makes users feel as if they are playing a game in the same room with their friends. By placing the other party's voice in a virtual 3D-space, it also avoids overlap between game audio and voice chat, letting users hear each audio source clearly. Users can even stream the same immersive audio experience to their viewers/ listeners that are tuning in with stereo headphones.
The YH-G01 headset combines a high-quality condenser microphone with a comfortable, lightweight design to give users an invaluable tool that will free up your hands and optimize your overall communication and listening experience during long hours of gameplay.
The ZG01 PACK is an all-in-one package that pairs the ZG01 game streaming audio mixer with a YH-G01 headset, rounding out your immersive gaming sound experience.
"The ZG series represents Yamaha's first full-fledged entry into the gaming market. The incorporation of Yamaha's accumulated experience developing immersive audio technologies like ViReal(TM) and Active Field Control (AFC) gives the ZG01 a significant advantage in achieving a more realistic and authentic experience," says Thomas Hemery, General Manager of Marketing & Sales of Yamaha's Pro Audio Division. "The ZG series marks the beginning of our continuing efforts to not only provide users with more exciting gaming experiences, but also to connect people in the global gaming population positively through sound and music."
Yamaha Announces the Release of Their First Ever Dedicated Game Streaming Audio Mixer, the ZG Series